Miyagi: Now, ready?
Daniel: Yeah, I guess so.
Miyagi: [sighs] Daniel-san, must talk.
[they both kneel]
Miyagi: Walk on road, hm? Walk left side, safe. Walk right side, safe. Walk middle, sooner or later
[makes squish gesture]
Miyagi: get squish just like grape. Here, karate, same thing. Either you karate do "yes" or karate do "no." You karate do "guess so,"
[makes squish gesture]
Miyagi: just like grape. Understand?
Daniel: Yeah, I understand.
Miyagi: Now, ready?
Daniel: Yeah, I'm ready.
The Karate Kid is one of my favorite movies.  The 1984 classic delivers lesson after lesson:  be humble; stay mentally strong no matter the opponent; confront your fears; do not quit; good things come from hard work; do not be afraid to try new things; and on and on.
This edition of the HR Law Insider focuses on keeping your business out of Miyagi's "middle lane" in 2016; it shares eight things you should be doing to ensure that your business is squared away for the year.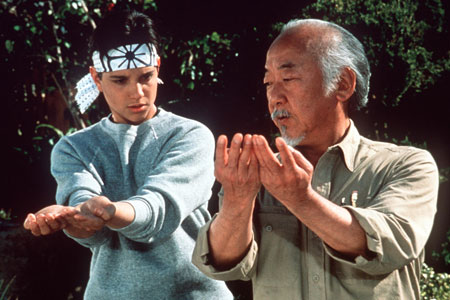 ENSURE SOUND HIRING PRACTICES 
Hiring the right person for the job and for your organization is where it all starts.  Starting now:
Assess your employment documents and make sure they are up to date and comply with the law (employment application, employee handbook, covenant not to compete, non-disclosure agreement, leave policies, etc.)
Perform background checks when possible (and comply with the Fair Credit Reporting Act by having the applicant sign a lawful authorization and release)
Do not ignore potential red flags in an applicant's history (e.g. frequently changing jobs)
Ensure your employment ads are lawful and accurate
Plan job interviews to identify the right person for the job and to weed-out all others
CORRECTLY CLASSIFY EMPLOYEES
Are your independent contractors truly independent — or might the Department of Labor (DOL) consider them employees?
Do your salaried, exempt employees truly fall under one of the Fair Labor Standard Act's (FLSA) exemptions (e.g. administrative, executive, professional, etc.)?  Are your written job responsibility documents consistent with your classification?
EFFECTIVELY ADMINISTER DISCIPLINE
Are you following these eight steps to effectively administering discipline?:
Act promptly
Do not discipline on the spot
Know the Company's rules of conduct, policies, and procedures
Investigate, investigate, investigate
Give the accused a chance to tell his or her story
Be consistent in determining the appropriate discipline
Inform the employee as to what will happen if there are further instances of misconduct
Document investigations and disciplinary discussions
Perfection is not of this world.  Courts and judges recognize this fact.  Thus, if an employer terminates or disciplines an employee based on a good faith, reasonable belief of misconduct, in most cases the employer will obtain a defense verdict even if it is  determined the employer was mistaken.
The key, therefore, is for employers to be able to prove that they had a good faith, reasonable belief when they disciplined or terminated the employee.  This is primarily accomplished by conducting a prompt and thorough investigation when misconduct comes to light, and by maintaining a solid documentary record of the investigation and evidence proving the misconduct.
MAINTAIN EMPLOYEE MORALE AND OPEN LINES OF COMMUNICATION
In my experience, the number one cause of lawsuits and government audits and investigations is poor employee morale and/or poor lines of communication within a company.
Constantly assess employee morale.  Always ensure employees — from janitors to supervisors — are heard and do not fear retaliation for bringing issues to management.
TREAT DISABLED AND OTHER ILL EMPLOYEES WITH TLC
Various laws protect sick, injured, and/or pregnant employees.  Yet, on the other hand, employers have a business to run and need to count on employees to come to work.
When an employee's need for time off conflicts with an employer's need to run its business, oftentimes a difficult decision must be made.  When such a decision involves disciplining or terminating an employee, consult counsel to ensure that there is no violation of, for example, the Americans with Disabilities Act (ADA), the Family Medical Leave Act (FMLA), and the Pregnancy in Discrimination Act (PDA).
The next time your business faces a potential leave of absence issue, review the following list to see if any of the following may apply:
     MANDATORY TYPES OF LEAVE
FMLA
ADA
PDA
Military
Jury duty
Voting
Possible religious accommodation
Crime victims (under certain circumstances)
     DISCRETIONARY TYPES OF LEAVE
Vacation/PTO
Bereavement
Sick leave (non-ADA, FMLA, etc.)
Maternity/paternity (non-ADA, FMLA, etc.)
Holiday
Personal reasons
In sum, a little thoughtfulness goes a long way in avoiding discrimination claims brought by sick, injured, and/or pregnant employees.
GUARD YOUR CONFIDENTIAL AND PROPRIETARY INFORMATION
The law protects those who protect their confidential and proprietary information.  Therefore, both your company handbook and non-compete/non-solicitation agreement should contain specific and detailed language prohibiting the improper use or dissemination of the company's confidential and proprietary information.
LEGALLY MONITOR COMPANY COMPUTERS
Monitoring computers and other devices is an effective way to (1) discourage employee theft and goofing off and (2) uncover theft or other misconduct as it is occurring and/or after it has happened.   Employee monitoring thus reduces the chance for unfair competition and, if it occurs, makes it easier to establish the misconduct.
Computer forensics experts can determine if an employee connected a device such as a removable USB storage device or if a CD was created which contained confidential data.  A true expert can even identify the make, model and serial number of the removable storage device, when it was first connected and the last time it was used.  The expert can also identify which data was deleted and often times can even recover the information. Printing a document also leaves a trail which can be uncovered and can provide key information about the theft itself. Frequently, websites visited by an employee will bring context to the theft or even constitute direct evidence.
PRE-TERMINATION QUESTIONS EVERY EMPLOYER SHOULD ASK
A business can always find a purported "reason" to fire an employee. Before that decision is made, however, the business should consider:
What is the employee's past work record? If it is good, then the termination may be deemed pretext.
Is there any record of the employee complaining or uncovering improper conduct by the company? If so, the risk of a pretext finding rises dramatically.
What are the chances the now ex-employee will bring a lawsuit against the company? What sort of claims can be brought and what is the company's potential exposure?
How will the ex-employee appear before a jury? Does he or she have an exemplary past?
How will your own employees and ex-employees appear? Do they uniformly support your position or will some provide evidence against you?
What will it cost in dollars, time, and bad publicity to defend a lawsuit?
Can there be collateral damage (lost contracts/clients, penalties, etc.)?
Failing to identify and correctly answer these questions can result in a bad 2016 — and beyond.
CONCLUSION
The tips listed above will help ensure that your business has a solid 2016.  Put the proper systems in place, execute consistently, and your business needn't fear getting crushed in Miyagi's middle lane.
Art Bourque has guided businesses and individuals in various employment law matters, and provides seminars and management training on the topics in this article.  Contact Mr. Bourque with any questions regarding these or other employment or human resource issues.  In the interim, enjoy this relevant snippet from The Karate Kid — and may it all come together for you in 2016: